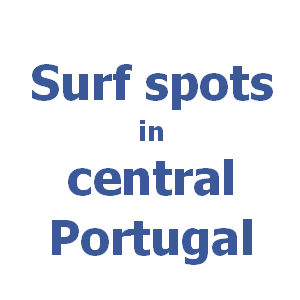 Central coast of Portugal is known as one of the best surfing area in the world, because of the great surfing conditions and variant of waves. There are many of Portuguese central coast surf spots like Aveiro, Figueira da Foz, Nazaré, Peniche, Santa Cruz, beautiful Ericeira and a lot of other surfing spots in central Portugal. The number of surf spots for all surf levels of central coast is incredible and the surfing lifestyle in the central regions means something more. People around are hospitable and helps you with any travelling issues connected with surfing in central coast of Portugal. One of the best surf spots in the Portuguese centre of surfing is definitely wonderful Peniche or Ericeira. Look at the list of the best central surf spots in Portugal.
Central Portugal Surfspots
Surfing in Aveiro
Surfing in Praia de Mira
Surfing in Figueira da Foz
Surfing in Leiria
Surfing in Nazaré
Surfing in Béltico
Surfing in Peniche
Surfing in Lourinhã
Surfing in Santa Cruz
Surfing in Ericeira
Surfing in Sintra
Surfing in Cascais
Surfing in Lisbon – Estoril and Oeiras
Surfing in Costa da Caparica
Look at all the best surf spots in Portugal online.