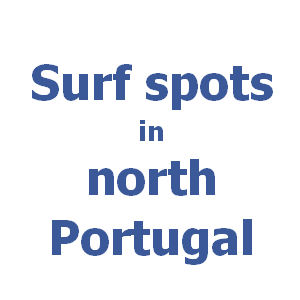 North Portugal surf spots are great for surfing on the north coast of Portugal. Well known surf areas Moledo, Afife, Esposende, Leca da Palmeira, Espinho and others are very visited especially in the surfing season in Portugal. Have a look at the list of top Portuguese north coast surf spots and look at the recommendations of surfers for high quality surfing spots of north Portugal. Is Matosinhos good for your suf level or is it better to surf in Agucadoura? The answers for questions of north surfspots in Portugal are for free in the Surfing in Portugal guide online optimized for smart phones and tablets. Read the tips for the most visited north Portugal surf spots and enjoy your surfing days in north Portugal with lot of making friends and surf fun.
North Portugal Surfspots
Surfing in Moledo
Surfing in Âncora
Surfing in Afife
Surfing in Viana do Castelo
Surfing in Esposende
Surfing in Agucadoura
Surfing in Póvoa de Varzim
Surfing in Vila do Conde
Surfing in Perafita
Surfing in Leca da Palmeira
Surfing in Matosinhos
Surfing in Miramar – Vila Nova de Gaia
Surfing in Espinho
Surfing in Cortegaca
Surfing in Furadouro
Check all top surfspots in Portugal.