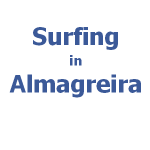 Almagreira surf spot
Praia da Almagreira is a surf spot in Peniche, close to Baleal. It is little bit out of the main road, but definitely worthy to arrive to this surf spot. Almagreira is not too much crowded by surfers like other spots around in Peniche and it is a very nice place. Discover the less famous surfing spots in Baleal and secret beauties of the Portuguese cost like the Almagreira beach.
Surfing at Almagreira
Praia da Almagreira is a beach break with right and left waves. There is a sandy bottom, but be careful about rocks, which can appear at this spot. When it is onshore at Supertubos and there are no waves at Lagido, try to see this surf spot Almagreira. When the waves are good Surf in Almagreira is gonna be your unforgettable session.
The best surf conditions in Almagreira
The best swell to Almagreira comes from north/west. This in combination with south/east wind can be a great long ride for you. When the sea is big it is not recommended for beginners. But in the summer days when in Baleal it is flat, you can have a chance to surf here. Can be good at all tides, but the best is said to be from the middle tide rising to high tide.