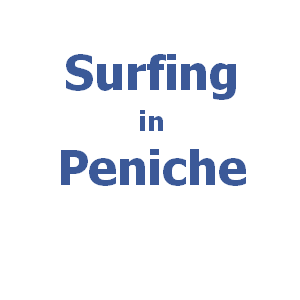 Paradise of surf Peniche
Peniche is the most known surf place in Portugal. This fishermen's town become famous in the world of surf thanks to the WSL (World Surf League) Championship Tour. WSL has one of the events in Peniche. There are about 10 surf spots all around the world where WSL organizes the main men's surf competition and the Supertubos in Peniche is one of them. Every year in October you can meet in Peniche the best surfers in the world and see them catching the super barrels.
But it isn't just the surf championship, which makes this place so special. Yes, there is this great super tubes spot for the professional surfers and you would love to see their performance. But it doesn't end up in watching. Even you are a beginner in surf, you will find awesome waves for learning, too. This is the most amazing thing about Peniche. There are spots for all the levels of surfing. Whatever your experience is, you will find a quality surf school or easily rent a good material for your free surfing. Living in the original surf house designed by surfers is also great surfing experience. Doesn't matter what your age is, in the water you will share waves with little kids as well as grandparents. Furthermore, Peniche is every time more internationally known and you will meet surfers from all over the world. Everybody can surf in Peniche, this is the real place with surfing spirit.
Peniche Surf spots
The quality of this surf paradise is the fact that Peniche is a peninsula, thus you can find a place to surf, whenever the wind blows from. Within a very short distance you have lots of different waves to surf. On top of that, Peniche is an awesome place where you can surf all year long and the waves are pretty consistent. Peniche surf house next to the spots is a good place to stay. If you are a beginner surfer you will appreciate consistent surf spots like Prainha, Cantinho da Baía or Cova da Alfarroba. For more experienced surfers can be good the point break of Lagido, stronger waves at Meio da Baia or a beach break at Molhe Leste. Really experienced surfers can challenge the waves at Papoa, Consolação or the famous Supertubos.
Pico da Mota
Almagreira
Pedra muita
Gigi
Lagido
Prainha
Cantinho da Baía
Cova da Alfarroba
Certo
Gamboa
Quebrado
Papoa
Molhe Leste
Super Tubos
Consolação
São Bernardino
The best surf conditions in Peniche
You can surf almost every day of the year in Peniche. That is why Peniche surf camp is popular all year long. The peninsula allows you to choose from variety of consistent waves and different surf spots with good conditions for all surfers. When the winds blow from the south and swells come from the north it works well in the north part. In these days you will find very favorable conditions at Pico da Mota, Almagreira, Lagido or Prainha. Few days in the year it works also at Papoa.
On the other hand the north winds create the best conditions in the south coast of Peniche. In combination with the west and the southwest swells you can challenge the fast barrels at Supertubos or with a bigger swell surf at Molho Leste. There is every time an alternative spot where to surf, when waves are too big or too small, just move to some other spot around and find there the best conditions for surfing in Portugal.